"Infinite Challenge" is a popular entertainment TV show in Korea that features six well-known TV hosts. In each weekly episode, they face off against each other in a series of difficult challenges. The challenge for last week's episode was to find a match for No Hong-chul, one of the TV hosts and participants on the show. A recent article challenges and finds it discomforting that Hong-chul's main standard was that his partner is pretty. Netizens find this report on the episode amusing.
Article from Sports Hankook:
My discomfort over the special "Hong-chul, get married" on the show "Infinite Challenge"
Last week on the 24th, MBC entertainment TV program "Infinite Challenge" broadcast a special episode titled "Hong-chul, get married." In the episode, the members focus on finding a match for No Hong-chul, the only single man among the six members. No's ideal woman is younger than 26, 170-cm-tall, and pretty. The members went around looking for his ideal match on the bus, around the Han River, and in other places.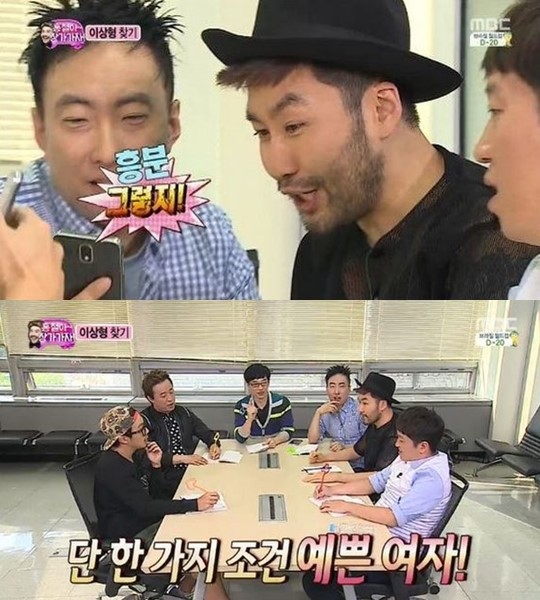 The problem is how the episode blatantly objectified women. The members focused on the womens' outer appearance and age. There was no outward discrimination, but women were rated based on their appearance and age and portrayed as types of goods, rather than as human beings. There is a scene in the special where Comedian Jeong Hyeong-don looks through the window at the writers of entertainment show "Dad! Where Are We Going?" which is on the same channel as "Infinite Challenge." The writers are in the midst of a meeting, and Jeong says "The writers of "Dad! Where Are We Going?" look like they would only ever work." The implied connotation made viewers feel uncomfortable.
The ideal match for every person differs depending on one's tastes. It's just that the way they portrayed it was no different than going to a market and choosing an item. Lookism may be rampant in our society. When he said "They look like they would only ever work," it was a trivial joke between them. However, it's unfortunate that a program like "Infinite Challenge", which unlike cable channel programs, is regarded as an entertainment show promoting public interests, brazenly jumped on lookism.
In March 2009, "Infinite Challenge" had a special on "Women's Day," and last July they had a special titled "Seven Famous Princesses." In the "Seven Famous Princesses" special, the members had a heated discussion about whether women's looks give them a competitive edge. One of the hosts Yoo Jae-suk even said "Looks by themselves do not give you an edge. What kind of society would we be in if what mattered the most was good looks?"
Entertainment is essentially supposed to make people laugh. Entertainment is just that. But it merits another look if it leads to uncomfortable grimaces.
Comments from Naver:
gogo****
I just saw it as entertainment.
hhee**** [Responding to above]
The journalist isn't saying that it's wrong to look at women's outer appearance… Sigh, the class of Infinite Challenge bugs [hardcore fans].
eon**** [Responding to gogo]
When No Hong-chul mentioned pretty girls, he wasn't talking about other standards, just looking for pretty girls, so why is everyone so mad? Ke ke, it's not like he's taking the census, just looking for pretty girls because that's his ideal type, so cool it, ke ke.
woxj****
I'm a girl but to me, it was just an entertaining show
vhrl**** [Responding to above]
The reporter was the one who started this fuss.
xody****
Everyone has their own ideal type, and this forms the basis for finding a partner that they like. The fact that other people are uncomfortable with that and see it as debasing women makes me more uncomfortable.
qudt****
Truthfully, doesn't everyone like pretty girls?
bott****
What do you expect him to do when that's his ideal type?
jiyo****
On so many dating shows, the contestants are nitpicky about their standards, so why is it such a big deal to have standards about appearance now? When participants like Shin Bong-sun and Park So-hyun appeared on the show, they seemed to be promoting a product, looking at monkeys in a zoo and chortling with glee when they described their ideal types as having washboard abs, being handsome, a CEO in their 20s, with a butt, etc. but these remarks were brushed off. What a double standard and a persecution complex, ke ke.
bseb****
No Hong-chul said his ideal woman was older than 26, but why do these articles say younger than 26?
anza****
It was a "Plastic Monster Special" except for a few on the episode.